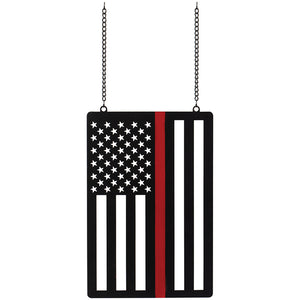 The Thin Red Line of Courage" represents the last ounce of courage firefighters find deep in their blood to conquer their darkest fears in order to save and protect life and property. The firefighters from the Apex Volunteer Fire Department designed and developed the "The Thin Red Line of Courage" in 1999.
Show your support for the firefighters by hanging this gorgeous chime that shows that you are thankful to have them risk their own lives to protect yours, you family's and your property with this beautiful work of art.
Our metal garden flags are laser cut and powder coated works of art you will be proud to own and display.   
13"H x 8 3/4"W
Pair with a garden flag stake or hang on a wall or door.