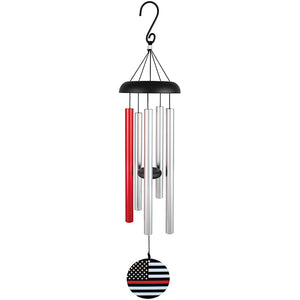 The Thin Red Line of Courage" represents the last ounce of courage firefighters find deep in their blood to conquer their darkest fears in order to save and protect life and property. The firefighters from the Apex Volunteer Fire Department designed and developed the "The Thin Red Line of Courage" in 1999.
Show your support for the firefighters by hanging this gorgeous chime that shows that you are thankful to have them risk their own lives to protect yours, you family's and your property. 
Our 32" sonnet chimes have 5 heavy walled, center pinned tubes that emit deep tones. All aluminum construction, durable powder coated and anodized finish, and strung with industrial cord. Each chime has an adjustable striker. Tubes are 7/8" diameter.
32" L (7/8" Dia. tubes)