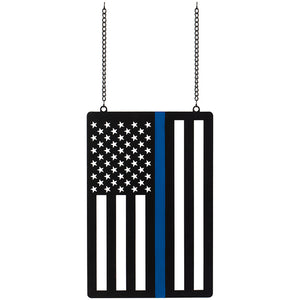 The thin blue line represents the thin line Police Officers walk daily between life and death.  It is also said the thin blue line represents the police officer role of separating the good from the bad while creating order from chaos.  
Show your support for the officers who serve and protect our communities and are the first to respond when called upon.   This beautiful metal flag is a work of art.
Our metal garden flags are laser cut and powder coated works of art you will be proud to own and display.   
13"H x 8 3/4"W
Pair with a garden flag stake or hang on a wall or door.