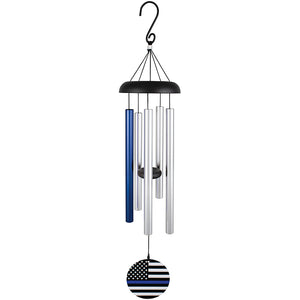 The thin blue line represents the thin line Police Officers walk daily between life and death.  It is also said the thin blue line represents the police officer role of separating the good from the bad while creating order from chaos. 
Show your support for the police by hanging this gorgeous chime that shows that you are thankful to have the protect and serve our communities.
Our 32" sonnet chimes have 5 heavy walled, center pinned tubes that emit deep tones. All aluminum construction, durable powder coated and anodized finish, and strung with industrial cord. Each chime has an adjustable striker. Tubes are 7/8" diameter.
32" L (7/8" Dia. tubes)