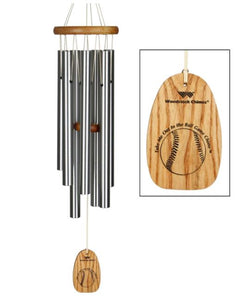 Inspired by the Chicago Cubs' World Series win in 2016, this chime is tuned to the opening notes of Take Me Out to the Ball Game, a Tin Pan Alley song written in 1908 by Jack Norworth and put to music by Albert Von Tilzer.
The song was first played at a Major League Baseball game during the 4th game of the 1934 World Series. Nowadays it's sung at baseball games in North America, always during the seventh-inning stretch, with the crowd enthusiastically singing along.
Take me out to the ball game,
Take me out with the crowd
...
For its one, two, three strikes you're out
At the old ball game!
Product Properties
Cherry finish ash wood
Seven silver aluminum tubes
Silk-screened windcatcher
Removable windcatcher for easy customization
Overall Length: 27 inches - Diameter: 5 inches