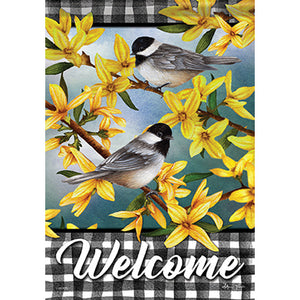 This beautiful garden flag depicts lovely birds perched on the twigs of a Forsythia shrub in full bloom.  Also adorning this flag is a black and white checkered pattern at the top and bottom with a script "Welcome" message at the bottom.

Our appliqué flags are just the thing to decorate your lawn!  Made from the finest heavyweight nylon with extraordinary detail, they are crisp and wrinkle free.  Crafted from durable fade-resistant fabric and tightly embroidered designs – you will not see any transparent designs here!
FlagTrends™ Appliqué Flags are two individual flags sewn together with embellishments and other 3D elements to bring the seasons to life and give them added value.  
Our flags hang vertically and measure 12 x 18 inches