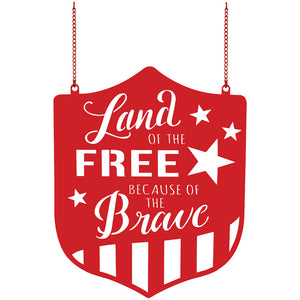 Show your support of our brave veterans and  troops current serving who defend this great nation of ours.  It is due to their sacrifices that we all have the freedoms we enjoy each and everyday.   This sign is just one small gesture to show you appreciate and acknowledge those sacrifices and that of the families of those who serve.  
Our metal garden flags are laser cut and powder coated works of art you will be proud to own and display.   
13"H x 10 1/2"W
Pair with a garden flag stake or hang on a wall or door.